In 1841 Richard Owen coined the word 'Dinosaur'?
The story of their discovery began back in the 1820s, when Gideon Mantell, an English doctor, found some unusual teeth and bones in a quarry. Dr Mantell realized there was something very different about these animal remains, and believed that he had found an entirely new group of reptiles. By 1841, about nine types of these different reptiles had been uncovered, including two called Megalosaurus and Iguanodon.
At this time, a famous British scientist, Dr Richard Owen, coined the name "Dinosauria in 1841," meaning "terrible lizard," for this is what the huge bones made him think of.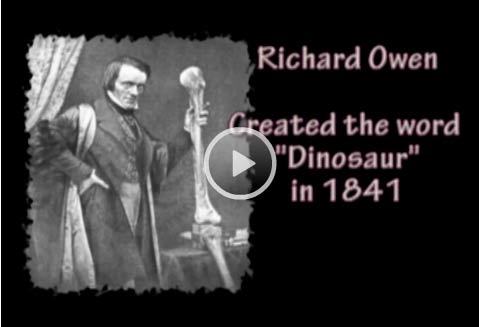 23 (plus) References to prove that dinosaurs were in the Bible.
Deuteronomy 32:33
Their wine [is] the poison of dragons, and the cruel venom of asps.
Nehemiah 2:13
And I went out by night by the gate of the valley, even before the dragon well, and to the dung port, and viewed the walls of Jerusalem, which were broken down, and the gates thereof were consumed with fire.
Job 30:29
I am a brother to dragons, and a companion to owls.
Job 40:15
Behold now behemoth, which I made with thee; he eateth grass as an ox.
Job 40:16
Lo now, his strength [is] in his loins, and his force [is] in the navel of his belly.
Job 40:17
He moveth his tail like a cedar: the sinews of his stones are wrapped together.
Psalm 44:19
Though thou hast sore broken us in the place of dragons, and covered us with the shadow of death.
Psalm 74:13
Thou didst divide the sea by thy strength: thou brakest the heads of the dragons in the waters.
Psalm 74:14
Thou brakest the heads of leviathan in pieces, [and] gavest him [to be] meat to the people inhabiting the wilderness.
Psalm 91:13
Thou shalt tread upon the lion and adder: the young lion and the dragon shalt thou trample under feet.
Psalm 148:7
Praise the LORD from the earth, ye dragons, and all deeps:
Isaiah 13:22
And the wild beasts of the islands shall cry in their desolate houses, and dragons in [their] pleasant palaces: and her time [is] near to come, and her days shall not be prolonged.
Isaiah 27:1
In that day the LORD with his sore and great and strong sword shall punish leviathan the piercing serpent, even leviathan that crooked serpent; and he shall slay the dragon that [is] in the sea.
Isaiah 34:13
And thorns shall come up in her palaces, nettles and brambles in the fortresses thereof: and it shall be an habitation of dragons, [and] a court for owls.
Isaiah 35:7
And the parched ground shall become a pool, and the thirsty land springs of water: in the habitation of dragons, where each lay, [shall be] grass with reeds and rushes.
Isaiah 43:20
The beast of the field shall honour me, the dragons and the owls: because I give waters in the wilderness, [and] rivers in the desert, to give drink to my people, my chosen.
Isaiah 51:9
Awake, awake, put on strength, O arm of the LORD; awake, as in the ancient days, in the generations of old. [Art] thou not it that hath cut Rahab, [and] wounded the dragon?
Jeremiah 9:11
And I will make Jerusalem heaps, [and] a den of dragons; and I will make the cities of Judah desolate, without an inhabitant.
Jeremiah 10:22
Behold, the noise of the bruit is come, and a great commotion out of the North Country, to make the cities of Judah desolate, [and] a den of dragons.
Jeremiah 14:6
And the wild asses did stand in the high places, they snuffed up the wind like dragons; their eyes did fail, because [there was] no grass.
Jeremiah 49:33
And Hazor shall be a dwelling for dragons, [and] a desolation for ever: there shall no man abide there, nor [any] son of man dwell in it.
Jeremiah 51:34
Nebuchadrezzar the king of Babylon hath devoured me, he hath crushed me, he hath made me an empty vessel, he hath swallowed me up like a dragon, he hath filled his belly with my delicates, he hath cast me out.
Jeremiah 51:37
And Babylon shall become heaps, a dwelling place for dragons, an astonishment, and an hissing, without an inhabitant.
Ezekiel 29:3
Speak, and say, Thus saith the Lord GOD; Behold, I [am] against thee, Pharaoh king of Egypt, the great dragon that lieth in the midst of his rivers, which hath said, My river [is] mine own, and I have made [it] for myself.
Micah 1:8
Therefore I will wail and howl, I will go stripped and naked: I will make a wailing like the dragons, and mourning as the owls.
Malachi 1:3
And I hated Esau, and laid his mountains and his heritage waste for the dragons of the wilderness.
Annotations prepared by:
Henry M. Morris, Ph.D, LL.D, Litt.D
President Emeritus,
Institute for Creation Research
Deuteronomy 32:33
No annotations
Nehemiah 2:13
dragon well.
Some modern versions, with no real justification, translate this as "jackal well." The Hebrew word, however, means "dragon" or at least some kind of monster. Most likely it refers to dinosaurs which survived into historic times and gave rise to the worldwide legends of dragons. The dragon well was known as such by the Jebusites who inhabited the region long before its conquest by Israel. Quite possibly the well was given its name by the first inhabitants who migrated there after the dispersion from Babel, when dinosaurs frequented the spring.
Job 30:29
brother to dragons.
Modern translations commonly render this as "brother to jackals." However, the Hebrew word is tannin and really means "dragons." These doleful creatures, coming in various species and signs, had not yet become extinct in Job's time, and were probably equivalent to the extinct animals we now call dinosaurs.
(See note on Lamentations 4:3)
Lamentations 4:3
Even the sea monsters draw out the breast, they give suck to their young ones: the daughter of my people [is become] cruel, like the ostriches in the wilderness.
Job 40:15
behemoth.
The word "behemoth" means, simply, "huge beast", and commentators commonly take it to be either an elephant or hippopotamus. The subsequent description, however, fits neither of these, nor any other living animal. On the other hand, it seems to match the probable description of a great land dinosaur, such as a tyrannosaurus.
Job 40:17
tail like a cedar.
No elephant or hippo has a tail like a cedar! This description supports the theory mentioned above that a behemoth may have been a dinosaur.
Job 40:19
chief of the ways.
The behemoth was the "chief" of all created land animals, which could only, therefore, have been one of the great land dinosaurs. These like all other animals, were created on the fifth and sixth days of creation week. Seemingly, the dinosaur had representatives preserved on Noah's ark. Some descendants survived to Job's day, giving rise to all the traditions of dragons in various parts of the world.
Job 40:19
his sword.
No mere man could overcome such an animal, but God could! As Job beheld the great reptile, it might well have called to his mind the old serpent of Eden, who was ultimately responsible for all the world's sin and suffering. He also knew of the ancient promise of the of the Redeemer who could come some day to slay the serpent. Furthermore, he had expressed faith in that coming Redeemer (19:25), and had sensed that his sufferings might somehow be a trial to which God was subjecting him (23:10). Perhaps God was helping him realize what was really going on behind the scenes in connection with his trials.
Job 41:1
Leviathan.
Leviathan was evidently the greatest of the marine reptiles, or dinosaurs, something like a plesiosaur, perhaps, although modern commentators tend to call it a crocodile. Isaiah says that leviathan was "the dragon that is in the sea" (Isaiah 27:1) and the psalmist said that leviathan "play(ed)" in the "great and wide sea." (Ps 104:25-26)
Job 41:10
dare stir him up.
Although no man could overcome the leviathan, God could do so, just as He could overcome the behemoth.
Job 41:21
a flame.
Whatever the leviathan was, it was not a crocodile! Many of the dragon legends indicate that they could breathe fire, and there are indications that at least certain dinosaurs may have been able to produce and expel combustible gases which, upon coming in contact with oxygen, could have ignited.
Psalm 44:19
No annotations
Psalm 74:13-17
divide the sea.
Psalm 74:13-17 is best understood as a commentary on Psalm 74:12: "For God is my King of old, working salvation in the midst of the earth."
The psalmist vividly recalls the ancient judgment of the great flood, as assurance that He will eventually bring righteousness and peace out of sin and turmoil in the present world as well.
Psalm 74:13
dragon in the waters.
The mighty "dragons" in the waters, the same as "leviathan" (see Job 41:1-34; Is. 27:1), were invulnerable to human weapons and were probably great marine reptiles, like dinosaurs. These "dragons" were broken and "dragons" were broken and buried in the mighty waters and rushing sediments of the flood.
Psalm 74:14
meat to the people.
The "people" mentioned here could refer to the fish and the other marine creatures whose habitats were overwhelmed in the flood, but that were not preserved in the ark, (which contained only land animals). The Hebrew word normally refers to human tribes, but can also be used for animal flocks (Pr 30:25). The carcasses of the mighty leviathan's could have provided sustenance to sustain marine life through the cataclysm.
Psalm 91:13
lion and adder.
In using this passage, perhaps Satan recognized it as a reference to Christ's fulfillment of the promise of Genesis 3:15, that the Seed of the woman would eventually crush the serpent's head.
dragon.
Both the lion and the dragon are symbolic of Satan (1 Peter 5:8, Revelation 12:9) here incidentally, is further proof that dragons were animals as real as adders and lions. It appears that dragons were animals similar to dinosaurs.
Psalm 148:7
from the earth.
Psalm 148:14 exhorts the whole terrestial creation to praise the Lord, after it has been renewed. In contrast, the present creation "groaneth and travaileth in pain" under the bondage of corruption (Romans 8:20-22).
Psalm 148:7
ye dragons.
These "dragons" are not mythical animals but are probably dinosaurs.
Isaiah 13:22
beasts of the islands.
This part of Babylon's "burden" will probably be fulfilled after the rebuilt Babylon sinks beneath the sea (Je 51:42, 64; Re 18:21). The previous verse describes its habitation by "wild beasts of the desert" this portion being fulfilled in the long centuries following her first collapse into ruins.
Isaiah 13:22
dragons.
The "dragons" (Hebrew tannin) are the "sea monsters", probably marine dinosaur-like reptiles or great sea serpents that still survive in the deep ocean. It is nothing but evolutionary fantasy which assumes that such monsters died out aeons before man appeared on the earth.
Isaiah 27:1
leviathan.
"Leviathan" is here also called "the dragon." The references to "leviathan" in Psalm 74:13-14; Psalm 104:26; and Job 41:1-34 make it clear that this was a real animal, probably a fearsome marine reptile, like a dinosaur. This passage, as well as Psalm 74:13-14, also shows that many references to "dragons" in the Bible (Hebrew tannin) must refer to great monsters, now extinct, such as dinosaurs. Only the false idea of the supposed evolutionary ages of geology says that dinosaurs became extinct 70 million years before man evolved.
Isaiah 27:1
that crooked serpent.
Leviathan, though a real animal, also symbolizes that old serpent, the devil, who will indeed be judged "in that day," first bound in "the bottomless pit," later consigned forever to "the lake of fire". (Re 20:3, 10)
Isaiah 27:1
dragon.
The "dragon that is in the sea," actually a marine dinosaur-like reptile (called a plesiosaur today), here symbolizes both Satan and the beast of the end-times. See Revelation 12:3,9; 13:1-2. The beast, the man of sin, is energized and possessed by Satan. Both will be destroyed "in that day."
Isaiah 34:13
No annotations
Isaiah 35:7
habitation of dragons.
Note also Jeremiah 51:34, 37.
Fossil evidence indicates that dinosaurs came in many sizes, large and small. The same was true of the supposedly legendary dragons of antiquity. Thus dragons (probably the same as dinosaurs) could both "hiss" and "roar" and "yelp" (Je 51:38).
Isaiah 43:20
No annotations
Isaiah 51:9
Rahab.
God's power was greatly manifest in the "ancient days", especially in the days of Noah and Moses, and perhaps even more so when Satan, that old "dragon" was cast out of heaven. The name "Rahab" is enigmatic. It does not refer to the harlot of Jericho (Jos 2) but to a great enemy of God (see also Ps 87:4; 89:10). "Rahab" means that "boaster" and could well be-in this context, at least-a name for "the dragon." However many scholars assume it refers to Egypt.
Jeremiah 9:11
den of dragons.
Hebrew tannin, meaning "monsters," possibly dinosaurs which survived in isolated locations for many centuries after the flood.
Jeremiah 14:6
like dragons.
Some translations render this word as "jackals". However the Hebrew word (tannin) means "monsters" and may refer either to land or marine monstrous reptiles like dinosaurs. The animals in this context were most likely small dinosaurs.
Jeremiah 49:33
dragons.
Hebrew tannin probably refers to dinosaurs; small populations still existed in remote areas at this time.
Jeremiah 51:34
like a dragon.
These changes against Nebuchadnezzar are obviously expressed in figurative terms, and one is especially intriguing-that of him "swallowing me up like dragon." For this expression to be meaningful, the "dragon" (Hebrew tannin) would have to be an animal capable of swallowing a man whole. This requirement adds to the many other evidences that the biblical "dragons" were actually great dinosaurs, or dinosaur-like sea monsters (see also 51:37).
Jeremiah 51:37
No annotations
Ezekiel 29:3
going back to Ezekiel 29:2
Egypt.
The last of Israel's neighbors to be the object of God's prophecies through Ezekiel was her ancient enemy, Egypt, once the world's greatest nation, but now in rapid decline. She is called a "great dragon that lieth in the midst of his rivers" (29:3), comparing her to a monstrous dinosaur proud of her river kingdom, but soon to be devastated.
Micah 1:8
No annotations
Malachi 1:3
dragons of the wilderness.
These ""dragons" (Hebrew tannin) are mentioned fairly frequently in Scripture-first in Genesis 1:21, where the word is translated "whales." It is best understood as a generic term for what we now call "dinosaurs," either great marine reptiles or land dinosaurs, depending on context.